The manufacturer has re-released the Xomax Android 6.0.1. The top model even has two slots for MicroSDHC cards on the front. At each slot you can use cards up to a size of 256 GB! There is a USB port on the front and back of the radio. The connector on the back can integrate USB sticks up to 2TB.

The new Xomax Android 6.0.1 looks really classy and stands out from the competition with its memory card sizes. On the front USB port you can also charge your smartphone. With the dual-zone feature, passengers in the back seats can watch a movie from the DVD drive through the head restraint monitors while viewing the navigation system at the front. For parking, the video signal of a front and a rear view camera can be displayed.
Universal devices in double DIN housing
Xomax has released two nonspecific devices. The Xomax XM-2DA6901 and the XM-2VA6701. Both have a very minimalist design.
The large model Xomax XM-2DA6901 has five touch buttons on the left front. At the top sits the eject button for DVDs and underneath the home button. Then follow the keys for volume up and volume down. Underneath is the on-off switch. At the bottom there is a real USB socket.
At the height of the DVD slot, a slot for MicroSDHC cards was installed right and left. Between the shaft and the slots, there is the opening for the internal microphone on the left and a hole for the reset switch on the right.
There is only one USB port on the back of the device. I would extend this with an extra cable to the glove box. Then you can quickly connect another USB device.
Xomax XM-2DA6901 Universal device with Android 6.0.1 and DVD drive on eBay
In this smaller model XM-2VA6701 were the DVD drive. But there is still a slot for a MicroSDHC card:
Xomax XM-2VA6701 Universal device with Android 6.0.1 without DVD drive on eBay
For the model XM-2VA901, the DVD drive and slot for MicroSDHC cards have been omitted:
The new model XM-2VA706 is again offered with a volume knob:
Vehicle-specific devices in double DIN housing
From Xomax there are also special models for vehicles from Seat, Skoda, Opel, Ford and Honda. These devices fit perfectly into the dashboard with their radio front. All you have to do is plug it into the vehicles existing cables.
Really easy !! The radio is even connected to the on-board computer by the included CAN bus adapter.
Some devices even have a volume knob and a DVD drive. I'll show you here ten different types of devices of the double DIN car radios with Android 6.0.1:
Xomax XM-VA903 for BMW E46 3er at eBay
Xomax XM-2DA703 for Opel Corsa, Astra, Zafira at eBay
Benefits of Android car radios
Unlike normal car radios of the old brands, you can extend such a radio with apps. As with your smartphone, you get new features from Googles Play Store and put the most interesting apps on the interface. There are even alternative launcher like the Car Launcher Pro, which can customize the appearance of the home screen. If you want to replace the music player, Viper4Android is a good alternative.
With the help of an app for internet radio, you can receive every radio station in the world crystal clear with the Xomax Android 6.0.1. Try the App Radio.de! This lets you put all your favorite stations in a favorites list. You can then switch quickly between the channels. In addition to the icons for the radio, the music player and the settings you can still apps for Navi, speed camera, tank app, clock and a weather widget on the surface. You can find more interesting apps in this post:
The best apps for your Android car radio
Connections with the smartphone

When getting into the car, your smartphone connects directly to your radio via Bluetooth. All calls can then be answered directly on the display of the car radio. And you can stream all the music stored on the smartphone via the radio streaming. When paired with a USB cable, you can even view and control the screen of a smartphone. I have described this technique with the name MirrorLink in this article:
MirrorLink with the Naviskauto
Accessories for the Xomax Android 6.0.1
For music streaming or online navigation in the car you need Internet access. You can build it with a 3G-Stick and a Twin-SIM card from your telephone company. Alternatively, you can also use a free SIM card.

There is even a very good stick from Huawei that receives LTE and lets the car radio access via Wi-Fi. Installation is easier because you do not need drivers. In addition, you can bring other devices – a notebook, for example – to the Internet.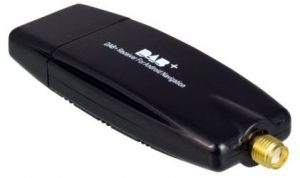 To receive digital radio you could connect a DAB + receiver and for reading engine information an OBD2 adapter to the Xomax Android 6.0.1.
With this interface, I have already tried the app "OBD Car Doctor free".  With that, the error log of my Porsche could be read out and reset. That's why I recommend this adapter!
The headrest monitor from Naviskauto is good and cheap and can be connected directly to the Xomax Android 6.0.1. The device can also play movies via USB and SD card.
For the rear view, there are normal rear cameras, night vision cameras and license plate holder with integrated camera. Users said in the comments in this blog that you can install license plate holder with integrated camera easier than separate cameras. For some vehicles, there are also cameras that you can attach directly to the license plate lights !!
This DashCam features a crash sensor and motion detection. During the day she records your drive to preserve evidence and during the night she takes pictures during movements or parking bumps. It is also inexpensive.
In strong sunlight, the display of the Xomax Android 6.0.1 may reflect. Therefore, I recommend you even this anti-reflection film. It also protects your touch screen from scratches!
Data of the Xomax Android 6.0.1
Here I have listed the general data:
Allwinner QUAD-CORE T3 p3 mit ARM Cortex A7, 1.2GHz

1 GB of DDR3 RAM

Nand Speicher: 16GB

Android 6.0.1 Marshmellow

Screen size: 7 inches

Screen resolution: 800 x 480

Cold start time: about 25s

Supports DAB + function

Capacitive 5-point touchscreen

Key illumination freely selectable


Bluetooth 4.0: Handsfree with phonebook import and music playback (A2DP profile)

Bluetooth connection for iPhones & Android Phones
Supports USB media up to 2TB, SD cards up to 256GB

Music and Video Formats: MP3, WAV, FLAC, MP4, AVI, XviD, MKV, MOV, M4V, 3GP, VOB, M2V, FLV, and others

Supports steering wheel remote control (analog input)

RCA connectors for front camera and rear view camera

Audio / Video Output: Up to two additional external monitors (eg headrest monitors) can be connected

Wifi

internal microphone, connection for external microphone

FM / AM radio with RDS

Audio output power: 4 x 60 watts maximum
Connections
Delivery
7″ Android Car Stereo (Head Unit)

assembly Instructions

Audio / video wiring harness for inputs
Audio / video wiring harness for outputs
ISO connection cable
GPS antenna
Double DIN mounting frame
Double-DIN radio bezel

two different microphone mounts
English Owners Manual for Xomax XM-2DA6901
Price-performance ratio
Currently you get the Xomax Android 6.0.1 for 259,00 Euro in the online shops of Amazon and eBay. Big, very cheap and with current operating system.
Alternative recommendation
A similar radio you get with the NAVISKAUTO RQ0264E at Amazon for 295.99 euros. Its display is also 7 inches tall. But it has a real knob for the volume. Many owners have had good experiences with this radio. I have already described it in a post:
The Android Radio NAVISKAUTO RQ0264E does not need to hide behind branded devices
Conclusion
The Xomax Android 6.0.1 comes with the latest technology and can be used as a jukebox, sat nav and hands-free kit. Overall, I forgive 4.6 out of 5 stars. At Amazon, the Xomax XM-2DA6901 currently has twenty-two customer reviews, fourteen with 5 stars, two with 4 stars, and one with 3 stars.
One more please. If you like this post, share it via Facebook or Twitter.
I have created the post on 29.01.2018!