Dirk Heimbürger |
Xtrons car stereo with Android 7 is new on the market. So far there are thirty different devices which have 16 GB ROM for applications and a 2 GB memory.

As usual, the new devices from Xtrons are very attractively designed and stand out from the competition visually and technically. All radios have a display with 1024 x 600 pixels. A new feature is the possibility to switch between the rear camera and the front camera. Besides, the Xtrons car stereo with Android 7 can now display apps in two windows next to each other. The price of the equipment was lowered.
Original device design
Xtrons is guided by the design of the original radio. The illumination of the buttons is adjustable. The device looks good and feels the same when you press the buttons. The USB ports are hidden at the back of the device. It is best to extend this to your glove compartment so that the connected media can be exchanged more easily. With Xtrons car stereo with Android 7 you can use up to 128 GB of large media via USB.
Various vehicle-specific devices
The new car radio is now available specifically for the vehicles of VW, Audi, Skoda, Seat, Mercedes, Ford, Toyota, Rover and BMW. This allows you to fit exactly into the dashboard with your adjusted aperture. You just need to plug in the new radio. All required adapters are included. That's why everyone can connect this radio.
With the attached dual channel CAN Bus decoder the radio also connects to the on-board computer of the vehicle. Open doors and the distance warning are displayed visually. Fortunately, eighteen radios have a knob for the volume. The manufacturer has installed a DVD drive on most vehicle-specific devices and often also provides two slots for microSD cards and a USB port. On some Xtrons car stereos the connections are hidden under two blind keys.
Here you see all other device types:
Universal devices in double-DIN housing
Xtrons car stereo also offers two chic universal devices.
The Xtrons TA695P and his slightly bigger brother TA701PL have a clear minimalist design without mechanical keys or knobs.
Instead, there is a slider on the left that allows you to continuously adjust the volume with a swipe motion. This is very nicely solved. At the bottom left is a slot for microSD cards integrated. The hole for the internal microphone and for the reset are also located on the front display on the left side.
The home and the back button have been moved to the top menu bar. I didn't expect to have a DVD drive installed in the TA695P as well. It is particularly nice that the whole head of both devices is made of glass and metal. This really makes a very high-quality impression.
At the back of the unit there is even a FAKRA antenna input and a small WLAN antenna. There is also an HDMI output and three USB ports available.
Universal device in single-DIN housing
Xtrons also has a device for the single-DIN slot in the program. The display has a resolution of 800 x 480 pixels and is 7 inches tall. The screen automatically moves out of the device after switching on. All fixed buttons are located at the front of the unit. This allows you to adjust the volume, start the navigation, change the angle of inclination, search for channels and turn the device on or off. No plastic, but real metal knobs.
A highlight is that you can remove the entire control unit for theft protection. There is even a DVD player hidden behind it.
Xtrons D719AS 1DIN universal device with Android 7.1 and DVD player on eBay
10-inch universal device in double-DIN housing
There are also a Xtrons device with 10 inch display – it requires a double-DIN slot – and has a resolution of 1024 x 600 pixels on the screen.
With the Xtrons car stereo TA101P you can select three levels for the viewing angle of the display. You can take the screen with you for theft protection. Below the screen there are two slots for microSD cards. In addition, there are also the on/off switch, the volume keys, a USB port and a reset built in. All other control buttons for the device can be easily reached at the top of the screen.
Benefits of Android car radios
Unlike the standard brand car radios the Noname Android car radios offer a wide range of possibilities. The Android devices are all made in China and are more or less standardized which makes them quite inexpensive and upgradable. While most of the brand car radios get an update with a bug fix for branded devices, it is possible to upgrade for free on Android devices – upgrades can be found on various websites.
The manufacturers of branded devices usually use proprietary operating systems that are not open source and can not be extended. The Android car radios, on the other hand, can be connected or expanded via software as well as via USB ports, audio and video inputs / outputs.
Remember that these supposed cheap devices can also be connected to any steering wheel remote control!
The Android car radios can do much more than the ridiculously simple possibilities of "Car Play" or "Android Auto" in so-called branded devices.
More features through Apps
With the apps that you already know from your smartphone, you can teach the radio new functions. So you can just buy in the Google Play Store your favorite navigation system or even download a free alternative. I recommend Navigon, iGo and Google Maps. If you need a music player other than the one supplied, you should take a look at Viper4Android.
If you do not want to be limited to the usual radio stations, you can receive free radio stations from the world with the Radio.de app. For this, however, an internet connection is needed. But this is also useful for other apps such as speed cameras, gas station finder, weather widgets and Navis. Even the look of your Android interface, you can customize with a launcher like Car Launcher Pro to your needs. Other interesting apps I described separately in this post:
The best apps for your Android car radio
Connections with the smartphone
You can wirelessly connect your smartphone to this car radio via Bluetooth. Then all calls can be answered directly on the radio. By streaming you can play the music stored on the smartphone songs on the radio. By coupling with a USB cable, you can even view the screen of a smartphone on the Xtrons car stereo and control it. I have described this technique with the name MirrorLink in this article:
MirrorLink with the Naviskauto
Accessories for the car radio with Android 7
For streaming music or online navigation in the car you need internet access. Instead of a 3G stick which often causes problems with drivers you should use a WiFi router.

I highly recommend HUAWEI E8372 which even receives LTE and to which the car radio can be connected via WLAN. After connecting to the WLAN of the stick you need to enter 192.168.0.1 in the browser, log in with Admin/Admin and enter the APN of your provider in the settings.
It is best to get a partner SIM card from your telecommunications provider. Do not forget to disable the password of the SIM card! Otherwise the stick cannot establish an internet connection.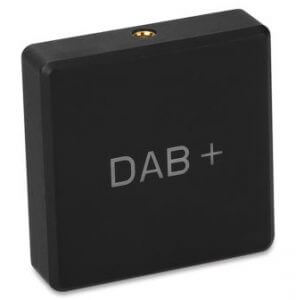 All fans of digital radios can extend their car radio with this DAB+ box.
In addition, you can connect an OBDII Wifi adapter to the Xtrons car stereo. Then you can use the app Torque PRO to display more information about your engine. With this adapter I have already used the app OBD Car Doctor free. By doing so the error log of my Porsche could be read out and reset, that's why I recommend this adapter.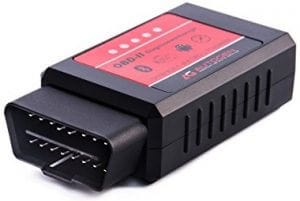 It is posible to use Atogen OBDII Bluetooth Adapter as a preference to access your OBDII data via Bluetooth. For accessing the internet via WLAN, this OBDII Bluetooth adapter is also suitable.
Eonon 10.1 inch headrest monitor with DVD player at ebay
The headrest monitor from Eonon is good and cheap. Two of them can be connected directly to the Xtrons car stereo. The device can also play movies via DVD player.
For the rear view, there are normal rear view camera, night vision cameras and license plate holder with integrated camera. Users reported in my comments that you can install the license plate holder with integrated camera easier than separate cameras. For some vehicles there are also cameras that can be attached directly to the license plate illumination.
Xtrons also has a DashCam. The camera can be swiveled up to 360 degrees and can be used for permanent shots of the traffic or the interior. The pictures are in a resolution of 1280 x 720 pixels. The sound is also recorded.
This digital video recorder can store the recordings via USB on the car radio or on a MicroSD card in the camera. On request also in an endless loop, in which the older recordings are overwritten. I find it interesting that the camera sees everything even in the dark. With 35 euros, the Xtrons DVR017 is also very cheap!
In strong sunlight the display of your Xtrons car stereo may reflect. Therefore, I recommend you this
anti-reflection film
. It also protects your touch screen from scratches.
Data of the Xtrons car stereo with Android 7
Here I have once again listed the general data:
RK-PX3 64-bit quad core cortex A9
2g RAM; 16G Rome
Operating system Android 7.1 nougat
Screen Size: 9 inches
Screen resolution: 1024 x 600
Two-channel can bus (connection between car and stereo)
Supports DAB + digital radio
Supports 4k Ultra HD video
Button lighting is optional
Bluetooth: handsfree function with phone book import and music playback (A2DP)
Bluetooth connection for iphones & Android phones
Wireless screen mirroring (smartphone entertainment sharing)
Supports USB media & SD cards up to 32 GB
Supports steering wheel remote control
RCA connection for rear camera
3 USB ports on the back
Connection for Dashcam
Support Tyre pressure monitoring function (TPMS optional)
Audio/Video output: Up to two additional external screens (e.g. headrest monitors) can be connected
WiFi
Internal microphone
FM/AM radio with RDS
Region Free DVD player with the formats CD-Audio, CD-video, CD-ROM, DVD-Audio, DVD-Video, DVD-R, DVD-R, DVD + R, DVD-RAM, double layer DVD + R
Audio output power: 4 x 48 watts maximum.
Connections
The new FAKRA connections for GPs and radio are already in use here. are high frequency suitable up to 3Ghz. The Blue Connector (right center) is for the connection of the GPS receiver. This will receive the satellite signals for the Navi. The white plug (bottom right) is for the radio. It already has a supply voltage. That's why you don't need a phantom adapter with this device
Scope of delivery
9 "Android Car Radio (head unit)
Two different ISO connection cables
Cable with three USB sockets for back connection
GPS antenna
Can bus box
Connection cable for audio & video
Connection cable for external microphone and camera
Manual in English
Download the manual in English for all Xtrons car radios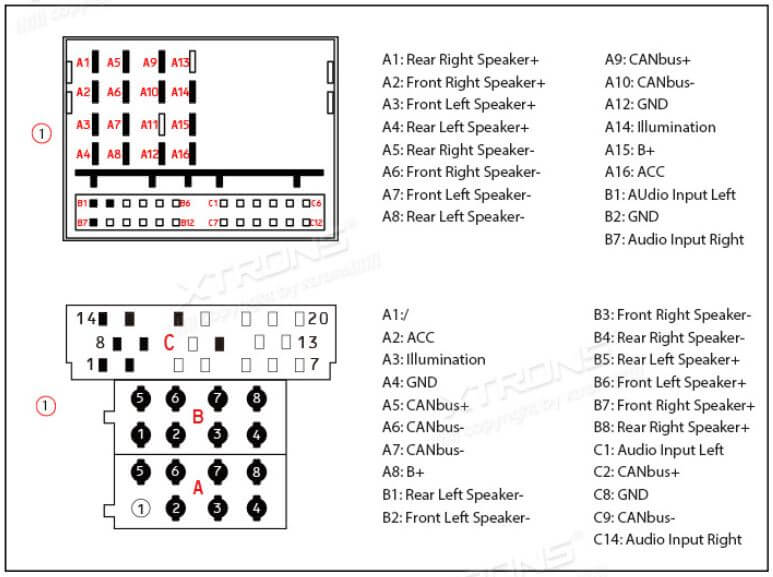 Value for money
Currently you get the Xtrons PA97MTVPL Android 7 for vehicles from VW for US $417.28 in the online shop of ebay. Big, very fast and with the latest Android.
Xtrons PA97MTVPL Android 7 for vehicles from VW on ebay
Alternative recommendation
You get a similar radio with the Pumpkin 02306B on eBay for 233.10 euro. Its Android is also 7.1. It also has a quad core processor with 2 GB RAM & 32 GB ROM. With this radio many owners have had good experiences. I have already described it in a post:
The new pumpkin Car radio with Android 7.1
Conclusion
The Xtrons car stereo with Android 7 comes with the latest technology and can be used as a navi, hands-free system and mobile music collection. I give a total of 4.7 of 5 stars. The seller infotainment2000 has received 906 positive, 9 neutral and 2 negative ratings in the last 12 months.
One more request. If you like this post, then share it via Facebook or Twitter. If you would like to know which radio aperture and adapter are needed for your vehicle, I would also be happy to help.
I have updated this post on 22.05.2018!