Xtrons universal device TS708L with 2GB RAM, 16GB ROM, Android 8.1 and 7 inch display at eBay
Dirk Heimbürger | created
This Xtrons universal device has recently been offered at a very competitive price! The device has the quad-core processor Cortex A7 with 1.2 Ghz clock frequency and uses Android 8.1 . The radio has 2GB RAM and 16GB memory for running apps. On eBay the all-rounder is already available for 175 Euro !
The new Xtrons device has a 1024 x 600 pixel display. At the bottom left of the screen is a slot for microSD cards. There are sensor keys for the volume, a back button and the on/off switch. At the top you can see a small hole from the internal microphone. If a reset is necessary, you can easily reach the opening above the SD card slot.
You'll also find three USB inputs on the back of the device. You can connect 128GB USB sticks to them. The four speaker outputs have 45 watts each. There are also four audio outputs with RCA plugs to connect an external amplifier. There's even a subwoofer output.
A DVD drive is not included. Altogether the car radio makes a very valuable impression, since it consists predominantly of glass and metal.
More Xtrons Universal Devices
Xtron's TE706PL universal device with 4GB RAM, 32GB ROM, Android 8.0 and 7-inch display on eBay
Xtron's TE706PL universal device with 4GB RAM, 32GB ROM, Android 8.0 and 7-inch display on eBay
The Xtrons TE706PL has more memory with 4GB RAM and 32GB ROM. Android 8.1. is used as the operating system. Except for the FAKRA antenna input it is identical in construction.
Xtron's TE697P Universal Device with Android 8.0 and 6.95 inch Display on eBay
Universal Xtrons TE697P with Android 8.0 and 6.95 inch display at Amazon
Xtron's universal device TR771L with Android 8.1 and 7 inch display at eBay
Universal device TR771L from Xtrons with Android 8.1 and 7 inch display at Amazon
The Xtrons TR771L is a universal device that comes with Android 8.1 already. The radio also has a volume knob.
The Xtrons TE697P has a slightly smaller 6.95 inch display. But it has a DVD drive. There is a wipe area for volume control. I like this very much. The back button has been saved, but it's available in the upper sidebar again anyway. The two universal devices don't differ from the technical data.
Brand new:
Xtron's universal device TM705L with Android 8.1 and 7 inch display at Amazon
Various vehicle-specific devices
You will find a large selection of vehicle-specific equipment in this article:
Xtrons Autoradio mit Android 8.1 & 8 Kern-Prozessor
Caution with cheap devices
Make sure that you do not buy a device with WinCE 6.0. You cannot install apps on this operating system. In addition, these radios only have a processor with 800 Mhz and 256MB RAM. After some time this leads to jerks in the operation and sometimes also to interruptions in the music playback. Because you can easily confuse the devices, I have always provided links to good devices with Android 8.
Further information
If you have not yet dealt with the topic,
you can inform yourself in this post:
The overview of Android car radios for all newcomers
Data of the Xtrons universal device
Here I have listed the general data for you again:
MTK Quad Core Cortex A7 with 1,2Ghz; 2G RAM; 16G ROM
Operating system Android 8.0 Oreo
Screen size: 7 inch
Screen resolution: 1024 x 600
Supports DAB + Digital Radio
Supports 4K Ultra HD Video
Key illumination can be selected as required
Bluetooth 5.0: Hands-free function with phone book import and music playback (A2DP)
Bluetooth connection for iPhones & Android phones
Wireless screen mirroring
Supports USB media & SD cards up to 128 GB
Supports steering wheel remote control
Chinch connector for rear view camera
Chinch connector for Dashcam
3 USB ports on the rear panel
Supports tire pressure monitoring (TPMS optional)
2 Chinch connectors for video output: Two external monitors (e.g. headrest monitors) can be connected to this connector.
Wifi
Internal microphone
FM/AM radio with RDS
Region Free DVD Player with the formats CD-Audio, CD-Video, CD-ROM, DVD-Audio, DVD-Video, DVD-R, DVD-R, DVD + R, DVD-RAM, Double Layer DVD + R
Audio output power: 4 x 45 Watt Surround Stereo
Connections of the Xtrons Universal Device
Connections of the Xtrons Universal Device with Android 8.1
Rear of Xtrons TS708L universal device with WLAN antenna, GPS plug and DIN antenna connector
If your vehicle has two antennas, these are for diversity. If you use only one antenna for the radio, the reception suffers ! With a good diversity adapter you can use the signal strength of both antennas for radio reception.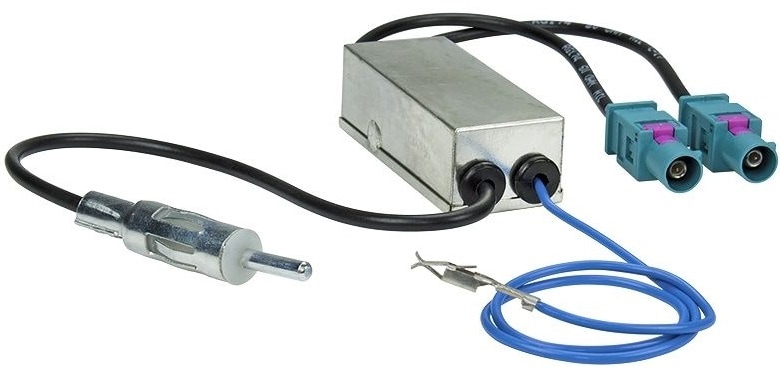 Scope of delivery of the Xtrons universal device
7″ Android Car Radio (Head Unit)
ISO connection cable
Cable with three USB sockets for rear connection
Connection cable for rear view camera
GPS antenna
Connection cable for audio, video, external microphone and subwoofer
Operating instructions in English
Scope of delivery of the Xtrons universal device with Android 8.1
Download the user manual as PDF in German for all Xtrons car radios
Pin assignment of the ISO connector on the Xtrons universal device with Android 8.1
Price/Performance ratio
Currently you can get the Xtrons universal device with Android 8.1 for all vehicles for 175 Euro in the online shop of eBay. Big, fast, very cheap and with the latest Android version.
Xtrons universal device TS708L with 2GB RAM, 16GB ROM, Android 8.1 and 7 inch display at eBay
Alternative recommendation
You can get a similar radio with the Pumpkin Pumpkin AE0273B on eBay for 253,99 Euro. Its operating system is Android 8.0. It has an Octa Core processor and with 4 GB RAM & 32 GB ROM it has much more memory. Many owners have already had good experiences with this radio. I have already described it in an article:
Das neue Pumpkin Autoradio mit Android 8
Conclusion
The Xtrons universal device comes with the latest version of the Android operating system and can be used as a navigation device, hands-free system and mobile music collection. I award a total of 4.8 out of 5 stars. The seller kfztechnick-xtrons has received 1559 positive, 18 neutral and 9 negative ratings in the last 12 months.
Did you like this post? In this case I would be happy if you share it with your friends via Facebook or Twitter.
If I could help you, you can also make a small donation here:
I updated this post on 04.03.2019!