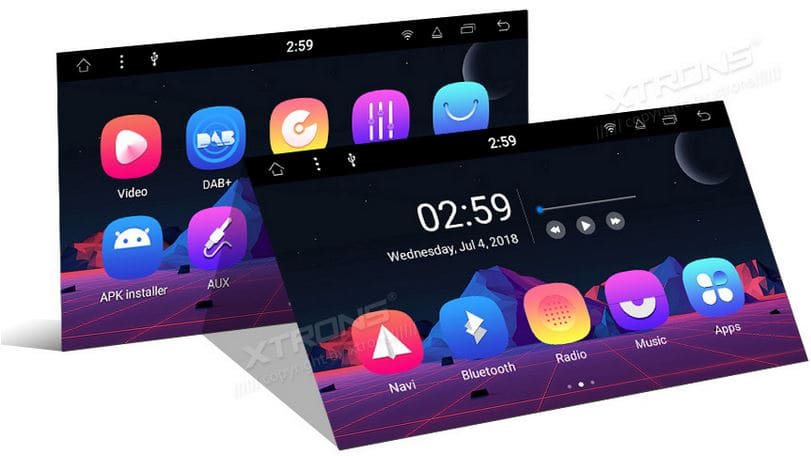 Dirk Heimbürger | created 20.03.2019
Android car radios offer you a wide range of possibilities in contrast to the usual brand car radios. All devices comes from China and are more or less standardized. Thus they are quite inexpensive and upgradeable. With branded devices there is at most an update for error correction. On the other hand, you can find free upgrades to the next Android version in various forums. I give you an overview.

Extensibility
The manufacturers of branded devices usually use proprietary operating systems that are not open source and cannot be extended. The Android car radios can be extended via apps. These supposedly cheap devices can even be connected to any steering wheel remote control !The Android car radios can do much more than the simple possibilities of "Car Play" or "Android Auto" with the so-called brand devices.
Launcher
With alternative launchers like the Car Launcher Pro, you can also customize the look of the user interface. In addition, you can extend Android car radios with apps. Just like with your Android mobile phone. Get new features from the Google Play Store and arrange the most interesting apps on screen.
Apps for Android car radios
With the Radio.de app you can receive radio stations from all over the world noiselessly. Just put all your favorite stations in a favorites list. In addition to the existing apps on the radio I would add icons for navigation, radar detector, tank app, clock and weather widget. The existing music player can also be replaced on request. Viper4Android is a good alternative. All really important apps are summarized in this article:
The best apps for your Android car radio
Connections with the Smartphone

Das Android car radio, you can set so that when you get into the car, a Bluetooth connection to the smartphone is automatically established. Incoming calls from the smartphone are displayed directly on the car radio and can be accepted there. In this article you'll find the details:
Making a phone call with an Android car stereo
All music stored on your smartphone can be streamed to your car stereo. If you pair it with your phone via a USB cable, you can even view the contents of the screen and control it from the touch screen. This technology is called MirrorLink. I've described it to you in this article:
MirrorLink with an Android car radio
Accessory for Android car radios
You can connect some additional hardware to the car radio. With a 4G stick you get a permanent connection to the Internet. With Internet radio or digital radio via DAB+ receiver you get the best reception. You can also connect a ,, a rear view camera, an OBD2 adapter and headrest monitors. I have linked the detailed article here:
The best accessories for your Android car radio
Overview Boottimes
Before turning off the radio, the operating system is loaded into memory. Therefore the Android car radio can run again within 5 seconds after a few days. After a stop at the gas station, the audio book continues at the right place. Even your navigation software resumes route planning. Only in exceptional cases does the device have to reboot when it is switched on. This can then take between 25 and 30 seconds.
Manufacturer and reseller
The market of car radios with the Android operating system has grown strongly in the last 3 years. There are now many new brands (resellers). On this blog I only present the devices that have many positive ratings and offer support. My research has shown that the technical components of these devices all come from the same factories (Manufacturers):
They differ mainly in memory (RAM), internal memory (ROM) and processor clock. Since the assembly takes place in different places and especially in different quantities, the quality of the radios is different again. The more devices of a brand are sold, the higher the quality. The version of the operating system does not come first. The main memory and the user memory are more important. I have listed the currently best devices for you here:
Caution with cheap devices
Make sure that you do not buy a device with WinCE 6.0. You cannot install apps on this operating system. In addition, these radios only have a processor with 800 Mhz and 256MB RAM. After some time this leads to jerks in the operation and sometimes also to interruptions in the music playback. Because you can easily confuse the devices, I have always provided links to good devices with Android operating system.
Support for Android car radio
Service and if necessary spare parts you get only on request with the larger resellers like Pumpkin, Xtrons and Naviskauto. Therefore you should pay attention to the brand name. The other companies do not offer such a thing at all. Wiring diagrams are not offered.
But try to get a schematic of a device built after 2007.
Unfortunately memory and processor are soldered. With Apple it is the same. Therefore such devices are extremely difficult to repair.
But you can replace the whole board:
KLYDE TFT Board For Android 5.1 Android 6.0 Android 7.1 Android 8.0 All model Car Multimedia Player Car Audio Radio Auto S
If you break the touchscreen or the whole display,
you can buy a replacement on this website:
Root rights for Android car radios
Before you equip a device with a new CustomROM, you need root privileges. With this manual you can root a car radio with Android 8:
Root for Android 8 (MTCD or MTCE devices with PX5 2gb or 4gb Ram)
Custom ROMs
With this CustomROM from Malaysk you can equip Android car radios with Android 6 and Android 8 with a very sophisticated version:
Malaysk ROMs for PX5 (2-4 Gb) 8.0 Android Oreo any yet known MTCD-MTCE
Key sequence for recovery mode
1. it is best to go to a very quiet place.
2. press the mains switch until the unit is switched off. Then you can probably hear a "plop" very quietly. Then the device is really off.
3. now release the button again. Then you can probably hear a very quiet "Plop" again, if the device switches itself on.
4. Wait about 1 to 2 seconds and then hold the power switch permanently until the recovery menu appears.
Source: https://forum.xda-developers.com/android-auto/mtcd-discussion-questions-development/button-combination-to-enter-recovery-t3391682
One more request. If you like this post, you can share it via Facebook or Twitter. Here you can also make a small donation:
I wrote this post on 20.03.2019!