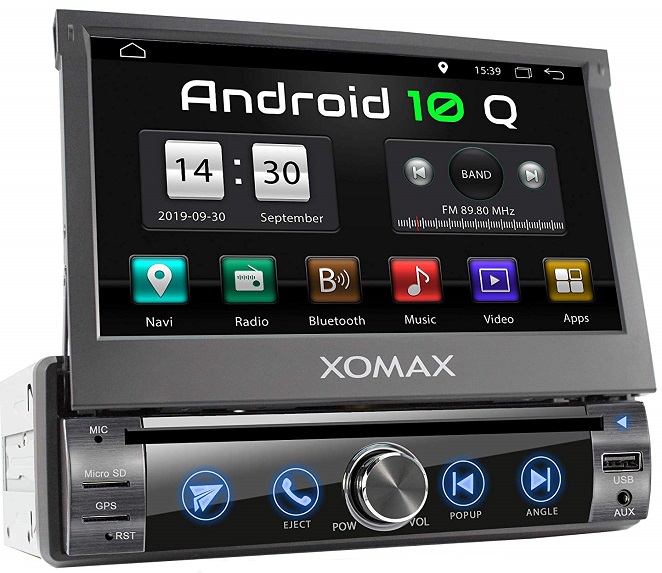 Dirk Heimbürger | created
Operating elements on the front
A large volume control is located in the middle of the front panel, which also functions as an on/off button. To the right of it there are two sensor buttons for jumping forward and backward to the next track. On the right edge there is a play button for DVDs, a USB port and a jack plug socket as audio output. To the left of the volume control there are sensor buttons for starting the hands-free car kit and the navigation system. On the left edge there are openings for the microphone, two MicroSD card slots and the reset button. As soon as you press the power button, the display will pop out of the housing. The sensor button on the far right has a double function. It can be used to tilt the whole screen into several positions.
Housing of the Xomax universal device
The car radio has a very high-quality visual effect and can be installed in really every vehicle thanks to its 1-DIN format. A simple installation frame and a narrow radio bezel are included in the scope of delivery. I think it's good that you can only connect the really needed cables and that they are quite short. Because often there is not much space left behind the radio.
SIM card slots and USB ports
The two slots for microSD cards can accommodate microSD cards up to 128GB. With the three USB ports, you can even use media up to 2TB!
Connection options on the back of the device
When you install the radio, all you need to do is connect the ISO connector from the radio to the vehicle and connect the radio, GPS and WLAN antenna. I would then use the supplied connection cable to route the two USB sockets right into the glove compartment.
4G-Stick for Internet
At the back you can also connect a 4G stick and a USB data carrier. You don't want to have something like that permanently plugged into the front of the device. The 4G mobile receiver always provides you with an Internet connection via WLAN. You can use it to navigate Google Maps on your car radio and listen to music via Spotify, YouTube and Internet radio. You can also check your emails and whatsapps. Unlike a hotspot on your smartphone, you don't have to reconnect the radio every time.
Inputs of the Xomax universal device
A separate video input is available for connecting a Dashcam. Additionally there is a video input for a rear view camera. There is also a left and a right audio input. I recommend to use the external microphone from the scope of delivery to improve the hands-free system. If you like, you can connect the steering wheel remote control of the car with a separate CAN-BUS adapter.
Outputs of the Xomax universal device
Two RCA cables are also prepared for the output of video signals. Two headrest monitors can be connected to them. In addition, four audio outputs with RCA plugs are available for connecting an external amplifier. Even a subwoofer output is available!
Inner values of the Xomax universal device
More Xomax universal devices with Android 10 on eBay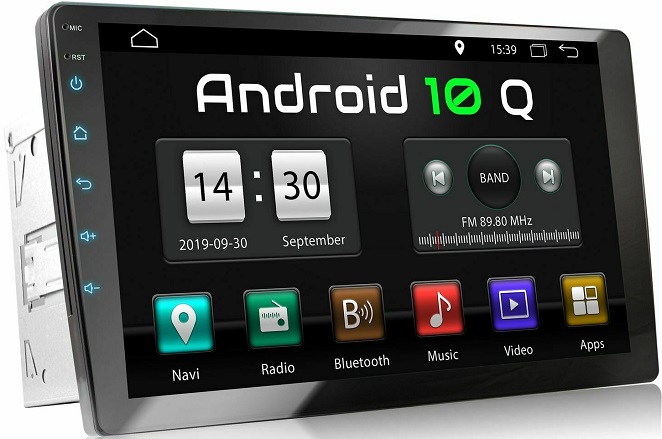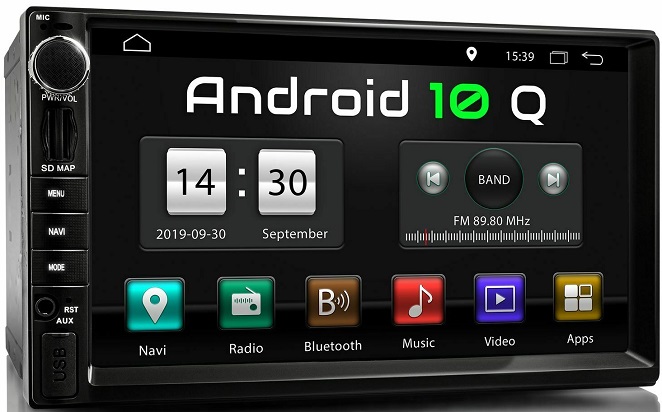 Even more vehicle-specific devices
A very large selection of vehicle-specific car radios can be found in this article:
Xtrons Hexa Core with Android 9.0 offers a lot of performance
Caution with cheap devices
Make absolutely sure that you do not buy a device with WinCE 6.0. With this operating system you cannot install apps. Furthermore, these radios only have a processor with 800 Mhz and 256MB RAM. This leads after some time to jerking in the operation and sometimes to dropouts during music playback. Because it is easy to mix up the devices, I have always provided you with links to good devices with Android 8.
Further information
Here are a few more articles that cover the topic Android car radio in more detail:
The overview of Android car radios for all newcomers
The best accessories for your Android car radio
The best apps for your Android car radio
Telephoning with an Android car radio
MirrorLink with an Android car radio
Data of the Xomax universal device
Here I have listed the general data for you again:
Quad-Core CPU: 4x ARMv7 1,2GHz rev 3 Processor

2G RAM; 32G ROM

Operating system Android 10.0

Screen size: 7 inches

Screen resolution: 1024 x 600 pixels

Supports DAB + Digital Radio

Support for 4K Ultra HD video

Key illumination can be selected as required

Bluetooth profiles: Headset, Speakerphone, A2DP & AVRCP, OBD Profile

Bluetooth connection for iPhones & Android phones
Wireless screen mirroring

Supports USB media up to 2 TB & SD cards up to 256 GB

Supports steering wheel remote control

Chinch connection for rear view camera

Chinch connector for Dashcam
2 USB ports on the rear panel
2 RCA connectors for video output: Two external monitors (e.g. headrest monitors) can be connected

Wifi

internal microphone

FM/AM radio with RDS

Audio output power: 4 x 60 Watt Surround Stereo
Connections of the Xomax universal device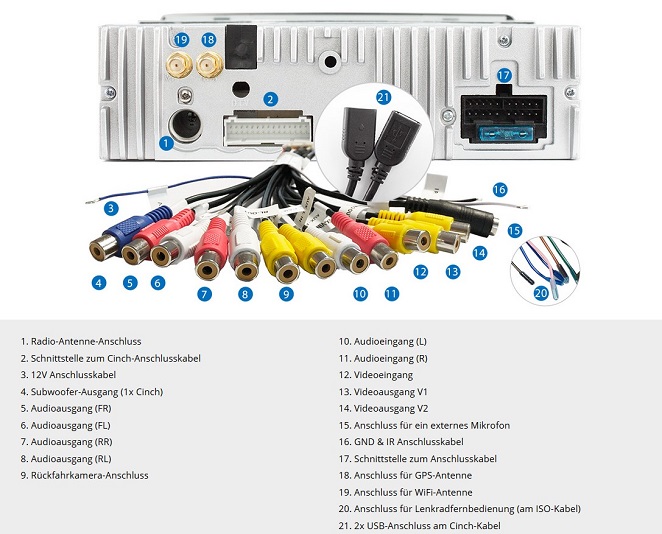 If your vehicle has two antennas, these are intended for diversity. If you use only one antenna for the radio, the reception will suffer! With a good diversity adapter you can use the signal strength of both antennas for radio reception.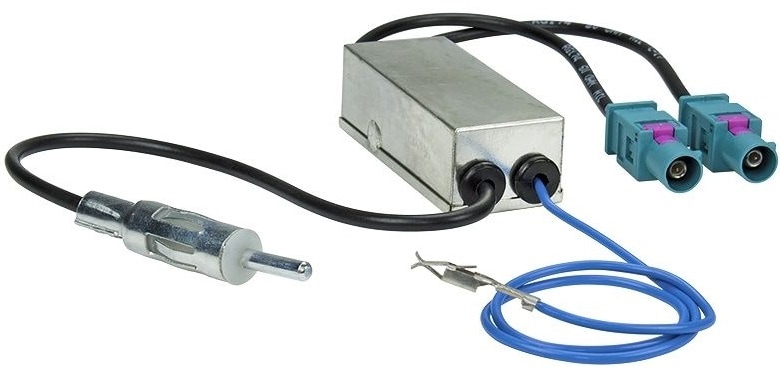 Scope of delivery of the Xomax universal device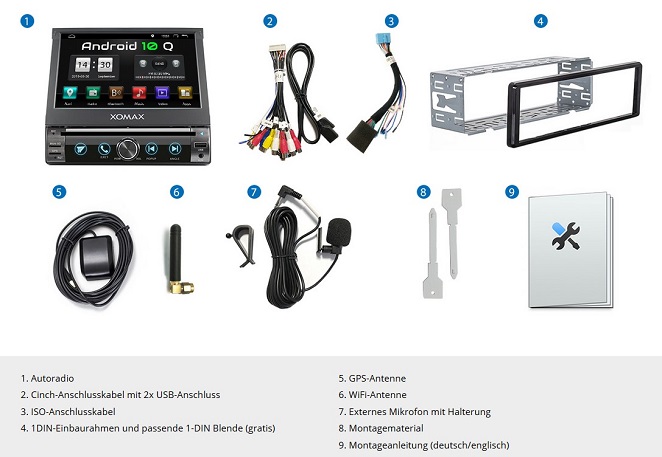 Download the operating instructions as PDF
Pin assignment of the ISO connector on the Xomax with Android 10.0
price-performance ratio
Currently you can get the Xomax universal device XM-DA759 with Android 10.0 for all vehicles for 279.00 Euro in the online shop of eBay. Big, fast, very cheap and with the latest Android version.
Alternative recommendation
You can get a similar radio with the Pumpkin AA0405B on eBay for 198.80 Euros. Its operating system is Android 9.0, it has an Octa Core processor and 4 GB RAM & 32 GB ROM memory. Many owners have already made good experiences with this radio. I have already described it in an article:
Pumpkin Universal Device with Android 9.0
Conclusion
The Xomax universal device comes with version 10.0 of the Android operating system and can be used as a navigation system, hands-free car kit and mobile music collection. I award a total of 4.7 of 5 stars. The seller arga7 has received 6448 positive, 51 neutral and 11 negative ratings in the last 12 months.
Advice and assistance
If you need help in finding the right car radio with suitable accessories or have a technical problem with the installation, then simply leave a comment at the end of the article stating your vehicle. I will reply immediately.
Social media
If you like this post, please share it on Facebook and Twitter!
You can also make a small donation if I could solve your problem.
I created the contribution on 06.04.2020!