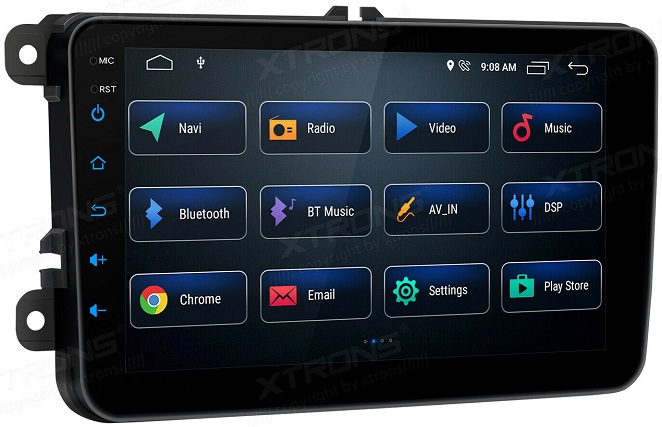 Dirk Heimbürger | updated
From Xtrons now car radios with Android 10 are available. The devices have a Quad Core processor with 2GB RAM and 16GB usable memory for the installation of apps. The prices for the new radios are very reasonable!
If you want to buy a new car radio for your car, you can get a high-quality device from Xtrons for little money. There are devices for many car models offered. The devices fit exactly into the dashboard with the adapted bezel. You only need to connect the new radio with the included plugs and adapters. That is very easy!
Apps for the Xtrons Android 10
With such an all-rounder you can play MP3 files from a MicroSD card or USB stick. If you find Android's file manager too spartan, just install ES File Explorer or Total Commander from the Google Play Store and you can easily move files around. To manage large music collections I would use the Phonograph Music Player or Musicolet Music Player. You can also install a radar detector on your device with the help of the app Blitzer.de. I would also add the fuel saving app Tanknavigator. I have listed more useful apps in a separate article.
How to get on the Internet
To access the Internet with the radio, you need a hotspot on your SmartPhone or a 4G stick. Then you can always listen to the latest music with Spotify or Radio.de.
When a call comes in on your mobile phone, you can answer the call on the car radio and make calls via the car speakers and the integrated microphone without having to pick up the SmartPhone. In addition the mobile phone is coupled by Bluetooth with the radio.
Receive DAB+ with Android
You don't have to do without DAB+ in your car either. But you have to buy a DAB+ receiver as well. It already comes with a stick-on windscreen antenna. But a permanently mounted combination antenna for FM/AM and DAB+ is better.
Navigation with the Android car radio
For navigation I would use Google Maps or Here WeGo. Both apps are free. The latter does not require an internet connection. By the way, a very good GPS receiver is already included. All you have to do is place this receiver under the dashboard. It still finds many satellites.
Accessories for the Xtrons Android 10
You can also connect a number of accessories to such a radio. With this OBD2 adapter you can display a lot of engine data on the radio. This rear view camera is also directly supported by the device. Also these tire pressure sensors. They warn you automatically if you have too little air in a tire. Further accessories I have listed in this article. If your car has a steering wheel remote control, this is automatically supported by the Xtrons car radio.
Xtrons is similar to the factory radio
All car specific models of Xtrons are based on the look of the factory radios. But in contrast, you can change the button illumination to almost any color. I find that the case and buttons feel valuable when pressed. At the back of the device, all cable connections are neatly grouped. You only need to plug in the cable connections you need. It's easier to swap USB flash drives if you extend the USB ports all the way into your glove box. The slots on the front panel can hold SD cards up to 64GB. For USB sticks this limit is 128 GB !
Other vehicle-specific devices
From Xtrons there are other car radios with Android 10.0 especially for the vehicles of Alpha Romeo, Audi, BMW, Buick, Chrysler, Chevrolet, Citroen, GMC, Dodge, Fiat, Ford, Honda, Hummer, Hyundai, Jeep, Kia, Land Rover, Mazda, Mercedes, Mitsubishi, Nissan, Opel, Porsche, Renault, Rover, Seat, Skoda, Suzuki, Toyota and VW. If you do not have enough RAM, you will find devices with a lot of RAM in this article:
Xtrons Hexa Core with Android 9.0 offers a lot of performance
CAN-BUS adapter of the Xtrons Android 10
With the included dual-channel CAN bus adapter, the Xtrons Android car radio also connects directly to the vehicle's on-board computer. Opened doors and the distance warning are visually displayed. You can adjust the air conditioning on the radio and you can also read the battery voltage, wiper water level, brakes, oil level and seat belts. Some information is also shown on the vehicle display in the dashboard.
Volume control knob
Fortunately, some radios even have a volume control knob. The manufacturer has installed a DVD drive in some of the car-specific devices and often provides two slots for MicroSD cards and a USB port. On some radios the connectors are hidden under two dummy buttons.
Here I present you the most interesting devices in alphabetical order: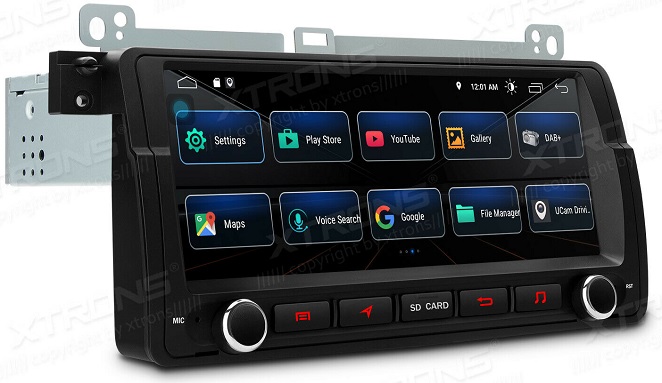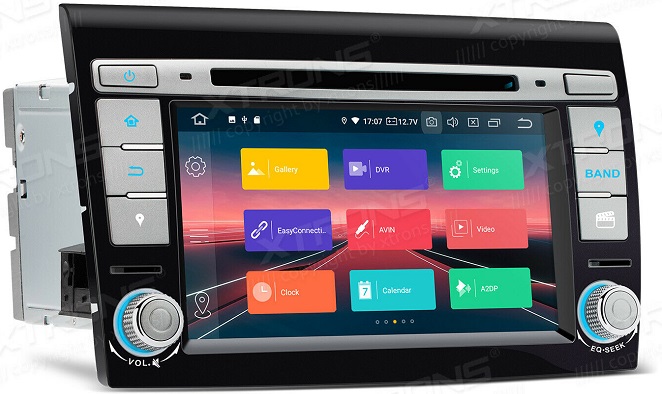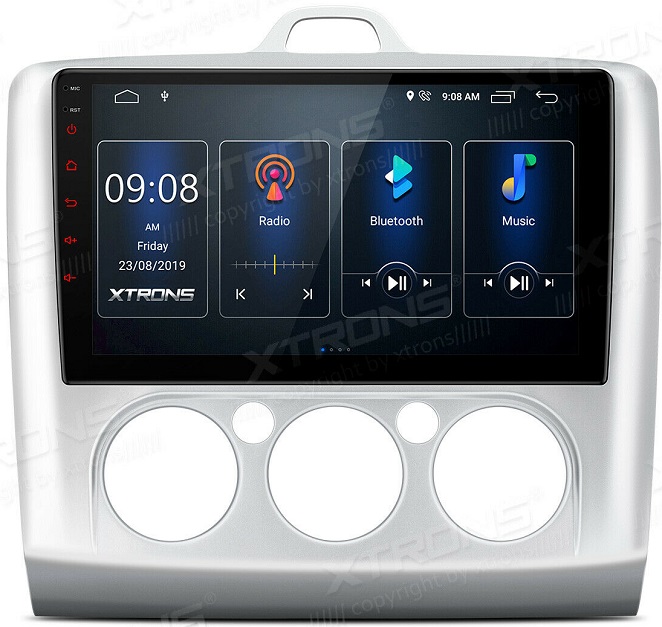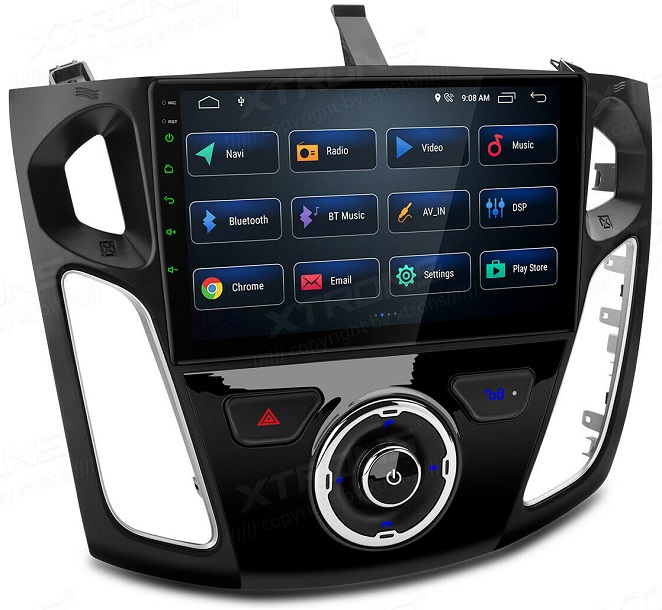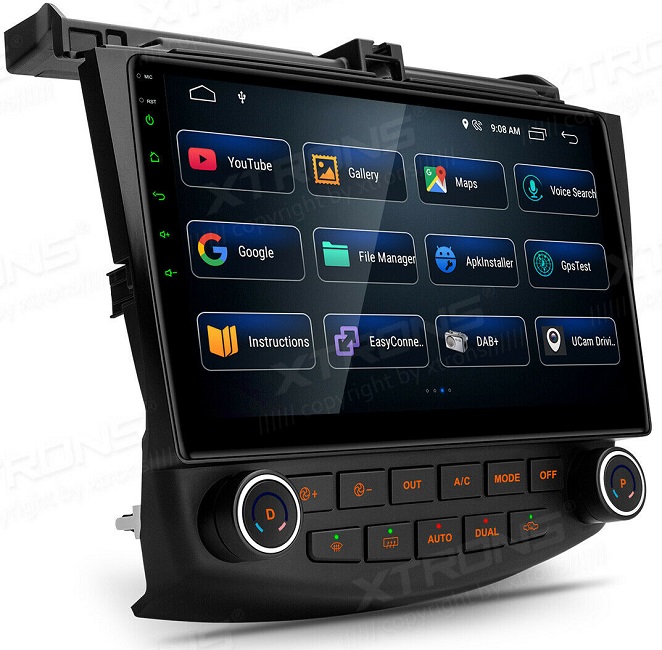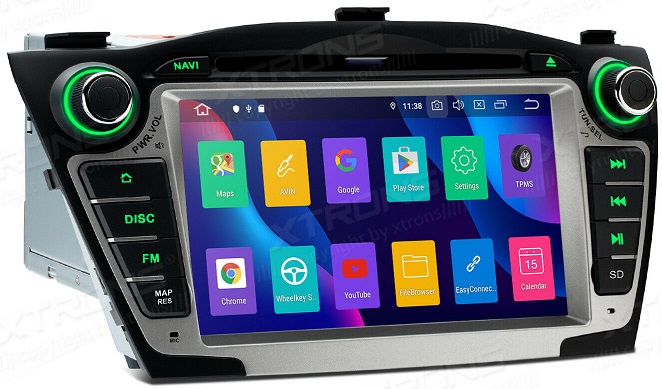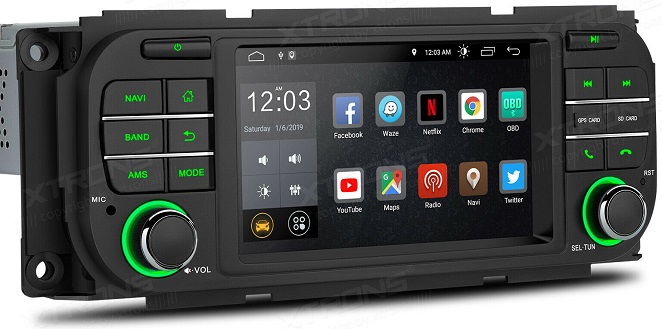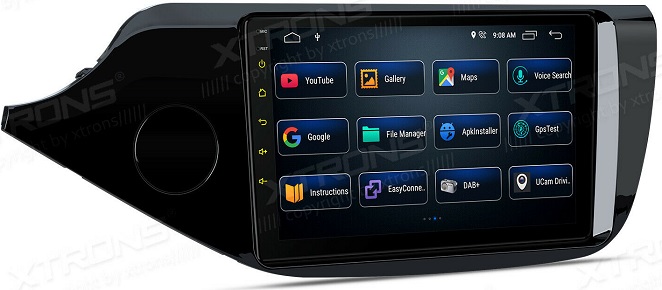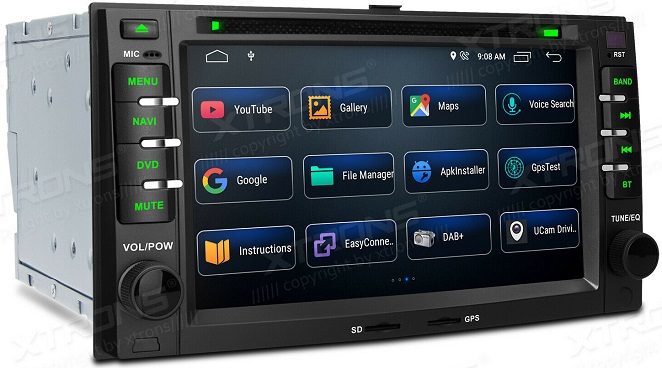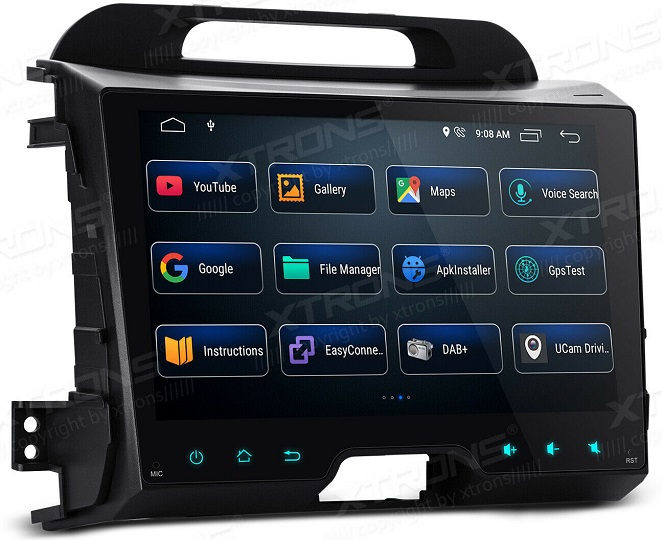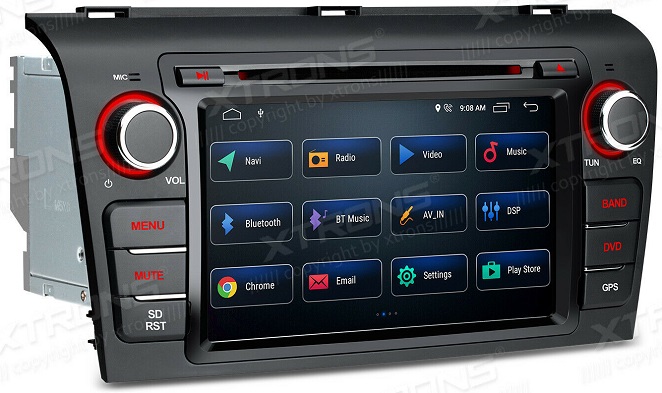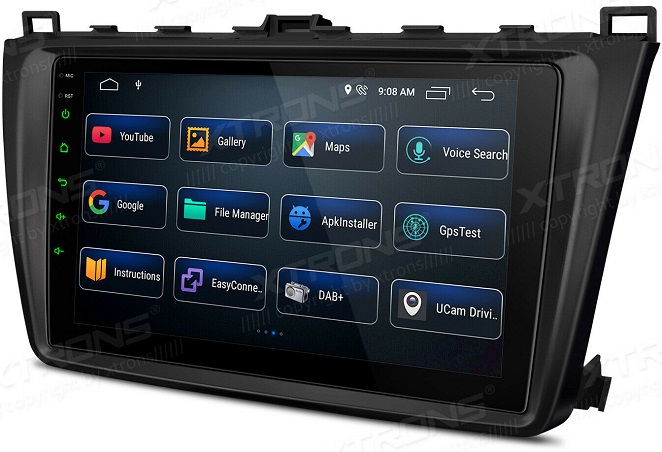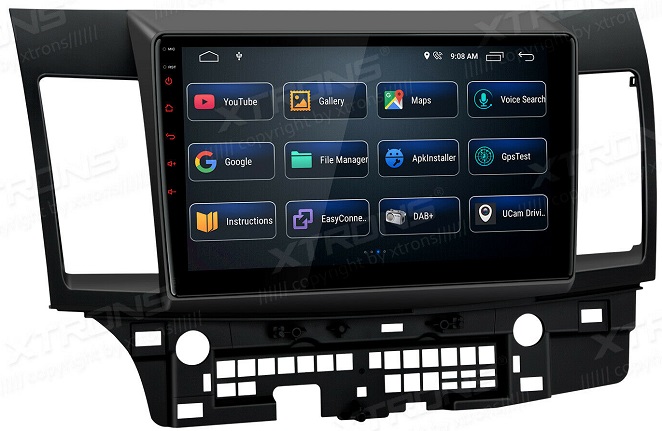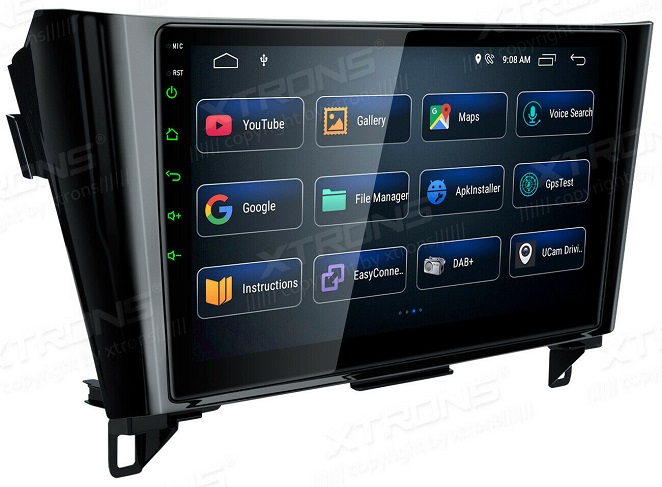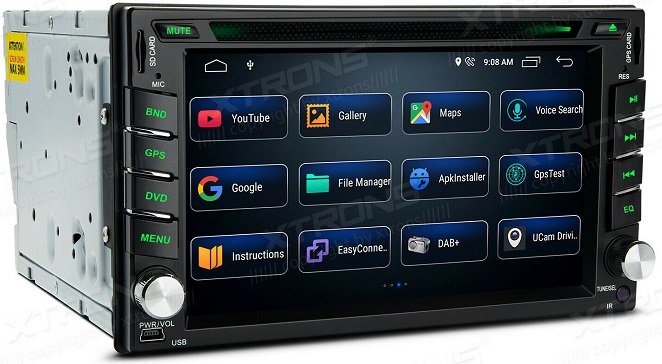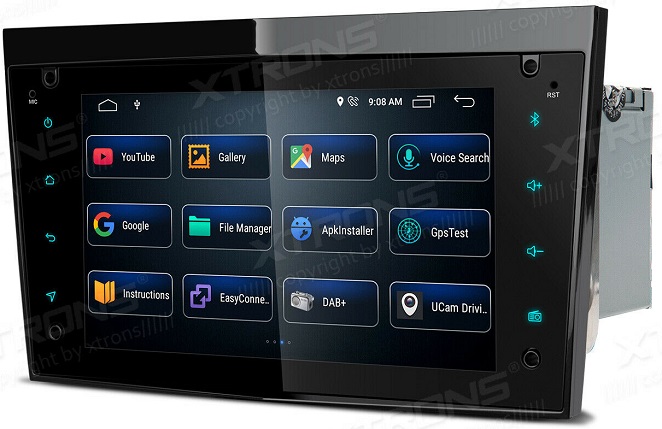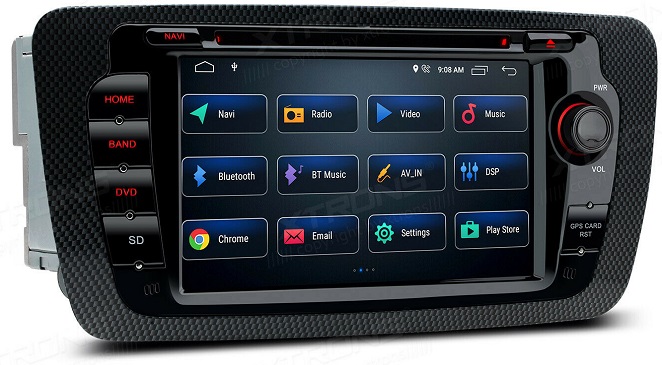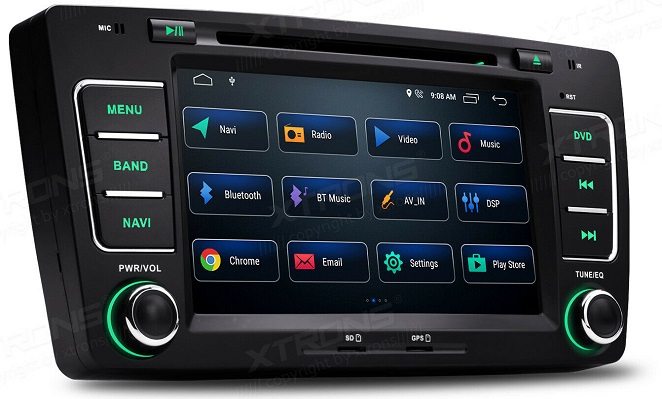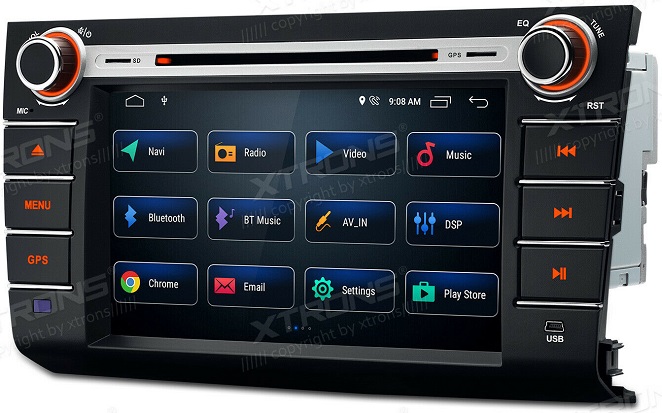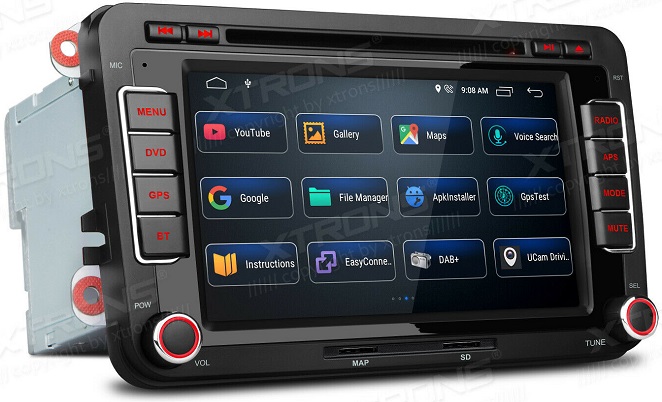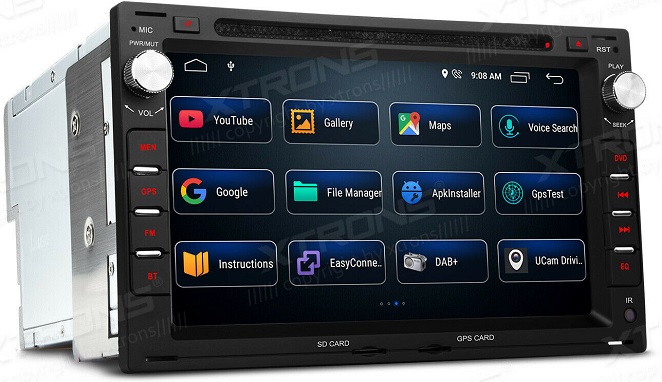 Universal devices from Xtrons Android 10
There are also universal devices from Xtrons with the new operating system: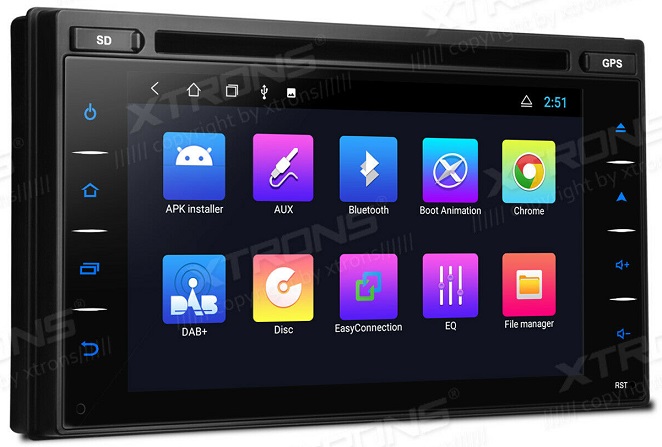 Further information
Here are a few more articles that cover the topic Android car radio in more detail:
The overview of Android car radios for all newcomers
The best accessories for your Android car radio
The best apps for your Android car radio
Telephoning with an Android car radio
MirrorLink with an Android car radio
Data of the Xtrons Android 10
Here I have listed the general data again:
MTK Quad Core Cortex A7
2GB RAM; 16GB ROM
Operating system Android 10.0
Screen size: 8 inch; screen resolution: 1024 x 600
FM/AM radio with RDS
Key illumination can be selected as required
Wireless screen mirroring (screen mirroring)
Supports steering wheel remote control
internal microphone
Audio output power: 4 x 45 Watt surround stereo
Connection possibilities of the Xtrons
Chinch connectors for rear view camera and Dashcam
2 cables with USB connectors for the rear
Supports USB media up to 128 GB & SD cards up to 64 GB
Supports tire pressure monitoring (TPMS optional)
2 Chinch outputs with video signal for external monitors (e.g. headrest monitors)
1 HDMI output for external displays
Dual CAN BUS adapter
Wifi
Bluetooth 5.0: Hands-free function with phone book import and music playback (A2DP)
Bluetooth connection for iPhones & Android phones
External microphone can be connected
Connections of the Xtrons at a glance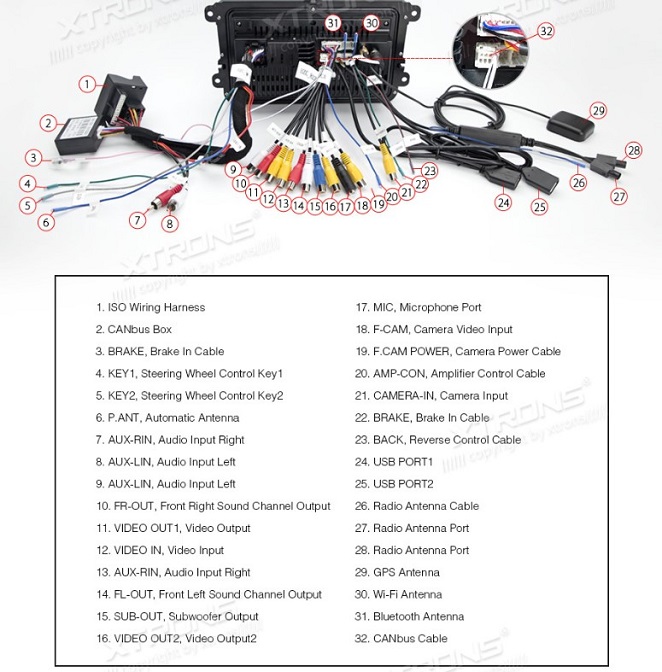 Rear panel without cable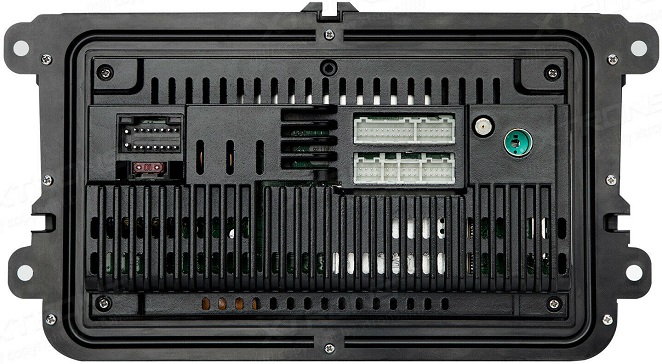 Antenna connections
The radio is supplied with an adapter to which two vehicle antennas can be connected via FAKRA plugs.
Thus the signal strength of both antennas is used for radio reception. The adapter also supplies the antenna amplifiers with a supply voltage.
There can be up to three antenna plugs on your vehicle. A blue plug identifies a GPS antenna.
A black plug is the normal radio antenna. If there is another yellow plug, this is not another antenna connector.
Here a differentiated signal is delivered that only this adapter can use.
Suitable video about the Xtrons
Here is a Youtube video about the Xtrons PSD80MTVL
Delivery of the Xtrons Android 10
8″ Android car radio (Head Unit)
Two different ISO connection cables
Cable for external cameras
GPS antenna
Diversity adapter for the antenna with phantom power
Cable with three USB sockets for rear connection
CAN BUS Box
Connection cable for audio & video
Antenna for WLAN
Connection cable for external microphone and camera
Operating instructions in English
Download the manual as PDF in German for all Xtrons car radios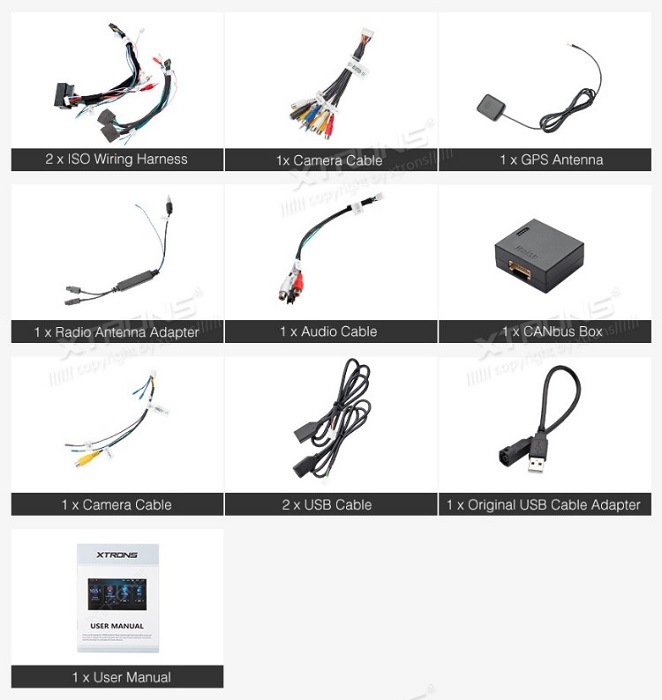 Pin assignment of the ISO connector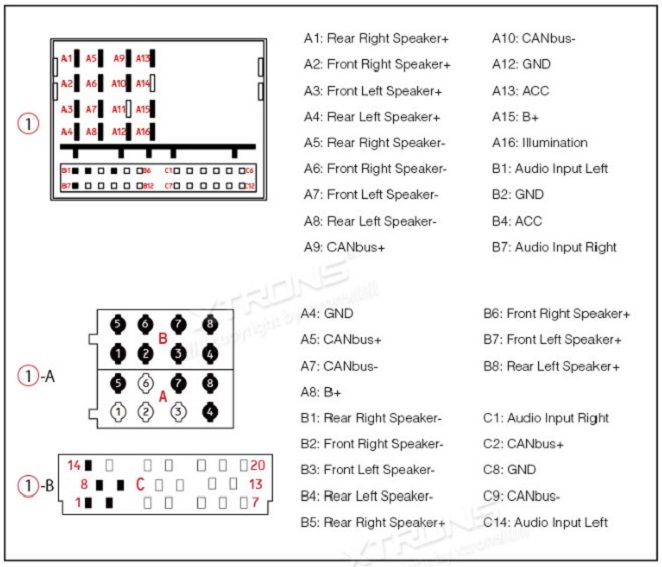 TIP: With this key sequence you can enter the Recovery Mode
1. it is best to go to a very quiet place.
2. press the power switch until the unit is switched off Then you can probably hear a "plop" very softly. Now the unit is really off.
3. Now release the button again. You can probably hear a very quiet "plop" again when the unit turns on.
4. wait about 1 to 2 seconds and then hold the power switch permanently until the recovery menu appears
Source: https://forum.xda-developers.com/android-auto/mtcd-discussion-questions-development/button-combination-to-enter-recovery-t3391682
And in case you have bricked the device through an improper MCU and can't even get into recovery:
Connect the USB keyboard, hold down the Alt and Print keys and press "e" (or "i" on some devices) several times.
Then you can start the recovery and flash again.
price/performance ratio
Currently you can get the Xtrons PSD80MTVL with Android 10 for VW vehicles in the online shop of eBay for 199,99 Euro. It could hardly be cheaper.
Xtrons PSD80MTVL with Android 10 Quad Core for VW vehicles on eBay
Alternative recommendation
You can get an equally inexpensive radio with the Pumpkin AA0405B with Android 9.0 on eBay for 195,00 Euros. The device is equipped with the Android 9.0 operating system. With the Octa Core processor and 4 GB RAM as well as 32 GB ROM as usable memory, the radio is a joy to use. I have already described it in an article:
Pumpkin universal device with Android 9.0
Conclusion
The Xtrons offers you a lot of possibilities and can be used as a navigation system, hands-free car kit and mobile music collection. I award a total of 4.7 of 5 stars. The seller xtrons-store has received 162 positive, 0 neutral and 3 negative ratings in the last 12 months.
Advice and assistance
If you need help in finding the right car radio with suitable accessories or have a technical problem with the installation, then simply leave a comment at the end of the article stating your vehicle. I will reply immediately.
Social media
If you like this post, please share it on Facebook and Twitter!
You can also make a small donation if I could solve your problem.
I updated the contribution on 07.01.2021!