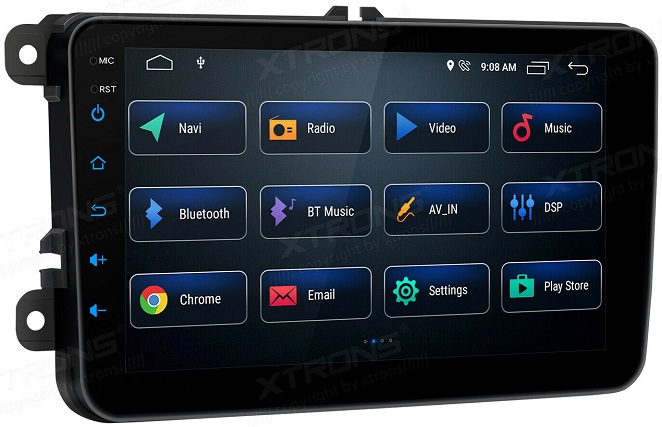 Dirk Heimbürger | updated
From Xtrons now car radios with Android 10 are available. The devices have a Quad Core processor with 2GB RAM and 16GB usable memory for the installation of apps. The prices for the new radios are very reasonable!
If you want to buy a new car radio for your car, you can get a high-quality device from Xtrons for little money. There are devices for many car models offered. The devices fit exactly into the dashboard with the adapted bezel. You only need to connect the new radio with the included plugs and adapters. That is very easy!
Apps for the Xtrons Android 10
With such an all-rounder you can play MP3 files from a MicroSD card or USB stick. If you find Android's file manager too spartan, just install ES File Explorer or Total Commander from the Google Play Store and you can easily move files around. To manage large music collections I would use the Phonograph Music Player or Musicolet Music Player. You can also install a radar detector on your device with the help of the app Blitzer.de. I would also add the fuel saving app Tanknavigator. I have listed more useful apps in a separate article.
How to get on the Internet
To access the Internet with the radio, you need a hotspot on your SmartPhone or a 4G stick. Then you can always listen to the latest music with Spotify or Radio.de.
When a call comes in on your mobile phone, you can answer the call on the car radio and make calls via the car speakers and the integrated microphone without having to pick up the SmartPhone. In addition the mobile phone is coupled by Bluetooth with the radio.
Receive DAB+ with Android
You don't have to do without DAB+ in your car either. But you have to buy a DAB+ receiver as well. It already comes with a stick-on windscreen antenna. But a permanently mounted combination antenna for FM/AM and DAB+ is better.